Are you leaving school or college and not sure what to do next? Maybe you're thinking of a career change?
Are you looking for a role where you can grow and develop?
Then Almac may have the answer for you!
About the opportunities
Building on the success of our previous trainee operator programmes, Almac Pharma Services is pleased to continue our initiative to recruit for Trainee Production Operators. We are excited to expand on the programme to offer further opportunities for Senior Production Operators (Grade 2).
Trainee Production Operator roles are suitable for those with a Level 3 qualification i.e. A Level, BTEC or equivalent, whilst a Level 4 qualification or above e.g. HNC, HND, BTEC or equivalent is required for the Senior Production Operator (Grade 2) role.
Pay rates:
Trainee Production Operators: £22,035 per annum plus shift premium
Senior Production Operator Grade 2: £26,200 per annum plus shift premium
These opportunities are perfect for those leaving education who want to start working and gain excellent experience whilst earning a great salary, or equally for those who fancy a change in their career.
This is your chance to join a well-established, global company, providing you with a great foundation to build a career in pharmaceutical manufacturing.
More about the roles
Almac Pharma Services consists of multiple departments working together to ensure client demand is met and products are made to high quality every time.
With a wealth of knowledge and experience, we have been manufacturing solid, oral dosage forms (tablets, capsules & powders) for over 50 years.  We also pack commercial drug products into bottles, blisters or sachets and have specialised packaging solutions for medical kits, vials and syringes.
These roles are based in our Packaging Operations Team and Commercial Manufacturing Operations teams based at our headquarters in Craigavon and are offered on a permanent basis.
Hours are worked on a bi-weekly rotational shift pattern consisting of the following:
Week 1 0600 – 1400 hours Monday to Friday
Week 2 1400 – 2200 hours Monday to Friday
Our attractive benefits package includes an annual bonus, 34 days paid annual leave, employer pension contributions, healthcare benefits and much more.
What can Almac offer you?
We are committed to providing you with a full mentoring and training programme to help you learn new skills to succeed. You will be paired with an experienced colleague who will work closely with you to guide and support you to achieve your goals.
With a clear career progression pathway in place, these roles provide you with the potential for promotion through the Senior Operator bands and offer excellent future opportunities for career development and personal growth. 
Having acquired a solid foundation in pharmaceutical manufacturing, you can then progress to supervisory, production support, quality and validation roles as you continue to develop in your career.
Hear what our Production Operators have to say about their roles
"The trainee operator programme has helped me adjust to a full-time working environment after just leaving school. Working on the production floor has given me a greater insight into how the company works. My colleagues have been very helpful in my first 6 months, from management right down to operators. I have enjoyed the culture within Almac. Everyone works hard, but also makes time for you if you need it. I have enjoyed my time working in the blistering rooms and learning more about how they operate."
Ben Armstrong, Trainee Production Operator
"The training and mentorship has been good throughout my time so far at Almac. I have been able to learn and understand a vast amount through SOPs, Grade2/3s, line management conversations and by watching how each process works. I have enjoyed learning and understanding how the packaging machines work. Having so many moving and working parts has intrigued me to watch and learn as much as possible whenever I have the chance."
David Cunningham, Trainee Production Operator
"The best thing about my job is the people around me. The manufacturing team is great – everyone always helps each other out, which has helped me settle quickly into my role.  I enjoy the variety of operations – every day is different and I am always learning new skills and receiving further training.   I enjoy the challenges and the responsibility that comes with the role and it is very satisfying knowing I am contributing to improving patient health every day."
Gavin Byrne, Senior Operator Grade 2 – Manufacturing Operations
"The best thing about my job is having that feeling of job security. Senior management keep us all informed quarterly throughout the year on how the business is continually growing and improving. My contribution to Almac is very important as I make sure the products in the process room I am responsible for are kept to a very high standard, ensuring no defective products leave the room. It's a great feeling knowing you have helped manufacture these life- changing, high quality pharmaceutical products for patients who need them. "
Matt McBride, Senior Operator Grade 2 – Manufacturing Operations
Interested?
Here's what you need to apply:
– A minimum of a Level 3 qualification (A-Level, NVQ 3, BTEC)
– Eagerness to learn and contribute to a team environment
– 500-word statement on your suitability for this program
– A copy of your CV
Statement guidelines
Feedback
Want to play a part in advancing human health?
View our vacancies to discover what roles are currently available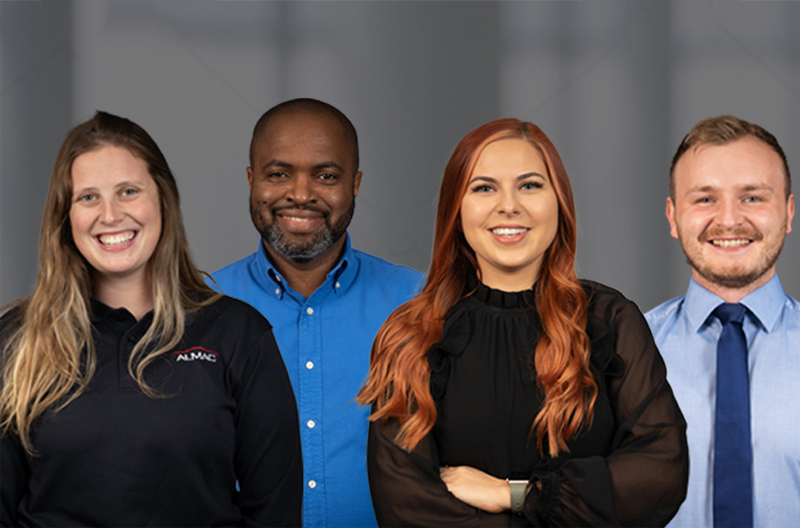 Join us