Almac celebrate official opening of North American HQ with former US. Senator George Mitchell
May 20, 2011
One of Northern Ireland's most successful companies the Almac Group, is celebrating the official opening of its new North American Headquarters.
With global headquarters in Craigavon, Almac employs more than 3,000 people and provides services to more than 600 pharmaceutical and biotechnology companies worldwide.
The official opening was performed by former U.S. Senator George J. Mitchell, who most recently served as Special Envoy to the Middle East and was Chairman of the all party negotiations which led to the Good Friday Agreement of 1998.
Welcoming Senator Mitchell to the ceremony were Almac Chief Executive Alan Armstrong and Lady Heather McClay, wife of Almac's founder, the late Sir Allen McClay. Almac CEO Alan Armstrong said "We are delighted to officially open our new North American Headquarters. The $120m investment is one of the largest ever made by a Northern Ireland owned firm in the United States and represents the continued expansion of the business on both sides of the Atlantic.
"With our rate of growth it is essential we build capacity in both our Northern Ireland & US operations to ensure the business continues to compete at a global level. It is a testament to the ambition of our founding Chairman Sir Allen McClay, who originally envisaged this project, and we are proud to have brought it to fruition."
A centerpiece of the opening was the dedication of a major art installation of fused glass that tells the story of Almac and its growth over the years. The glass designs are interwoven with scientific references, symbols associated with Northern Ireland as well as those contained within the Pennsylvania State Crest. The work was designed and produced entirely in Northern Ireland, by David Esler in Leadlines, based in Co Antrim, before being carefully shipped across the Atlantic.
Lady Heather McClay said, "The installation is a wonderful tribute to Allen's achievements and of those he called the 'Almac family'. We are honored to be joined by Senator Mitchell as someone who has played a key role in moving Northern Ireland into a new era. He is deservedly recognized in Northern Ireland for his role as Special Envoy and Chairman of the All-Party talks but his work as Chancellor of Queen's University Belfast makes his presence here today particularly fitting as that institution was very close to Allen's heart."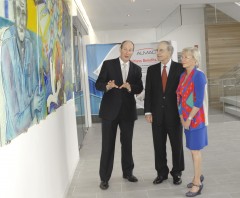 Speaking at the opening Sen. George Mitchell paid tribute to the vision of Sir Allen McClay.
"Sir Allen had a real vision for this company and the building we are dedicating today will be a fitting monument to his life and work. This facility will be important not only to the economy of Pennsylvania but to the health of people all over the world."
Almac's $120 million, 240,000 square foot new North American headquarters houses more than 800 employees in state-of-the-art facilities.  With low greenhouse gas emissions and a water reclamation program, the facility strives to maintain sustainability and has already added 300 new jobs to the greater Philadelphia region.
The event was also attended by dignitaries and representatives from State & local government level in Pennsylvania, a wide range of global pharmaceutical companies, as well as local families from the area and those who cared for Sir Allen in his period of illness in Hahnemann Hospital.
-Ends-
Contact:
John Hart
Stakeholder Communications
02890 339949 / 0779 147 0512
About Almac
The Almac Group offers a broad range of services, from R&D, biomarker discovery and development, API manufacture, formulation development, clinical trial supply and IXRS technology (IVRS/IWRS), to commercial-scale manufacture. Almac provides services to more than 600 companies, including all the world leaders in the pharmaceutical and biotech sectors. The company employs more than 3,000 individuals and is headquartered in Craigavon, Northern Ireland. US operations are based in Pennsylvania, North Carolina and California. For more information on Almac, please visit almacgroup.com.
To find out more about Almac visit almacgroup.com
Back to news