Complex innovative (adaptive) designs require flexible solutions and a world of expertise. Well-designed adaptive trials result in lower drug development costs, reduced timings, faster decisions, and improved patient safety.
As these complex designs often involve new treatments perpetually being introduced throughout the trial, Almac ensures that these common adaptations occur in the IXRS randomisation scheme seamlessly.
Industry's only in-house Adaptive Trial Design Center of Excellence
Access to industry-leading expertise focused on the successful implementation of your study's complex innovative design.
Utilising best practices for design and implementation
Partnering with you to cover key questions and considerations
Ensuring all IRT aspects are accounted for
Experienced in studies requiring multi-dimensional (sub-study, sub-group populations, sub-protocols), with perpetual adaptations.
Randomisation scheme built with flexibility
Seamless adaptions allowing the ability to add, drop or change existing parameters
Avoids timely and costly amendments by allowing real-time implementation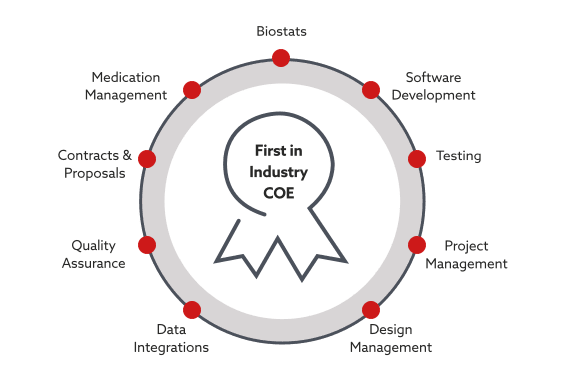 Almac Clinical Technologies Experience: Adaptive Trial Designs
Almac has extensive experience with IXRS implementation of Clinical Trials involving Adaptive Trial Designs, including Complex Innovative Designs and Master Protocols (Basket, Umbrella, Platform Trial Designs).
Complex Innovative Designs
Master protocols
Based on the Clinical Trials Transformation Initiative's (CTTI) "Master Protocols: Operations Partner "1 guidance, we hit all the requirements for your preferred IRT vendor for Mater Protocol Designs.
Dedicated Biostatisticians creating complex randomisation designs
Expertise in master protocol designs
Consultancy and guidance on IRT implementation
Relationships across the e-clinical ecosystem as part of a team of partners
An understanding of the critical connections enabled through systems integration
Site and patient-centric response systems
A 24/7 global technical support service desk
Featured Expert
Shelby Roberts
Business Process Leader
As Business Process Leader at Almac Clinical Technologies, Shelby leads the Adaptive Trial Design Center of Excellence responsible for design and implementation of IRT technology for Master Protocols and Complex Innovative Designs.  
Find out more
Contact us today
See how our technology will surpass your expectations, and experience how our seamless delivery will match your study-specifics regardless of size, phase, or complexity.
Contact Us