Northern Ireland's STEM Excellence Celebrated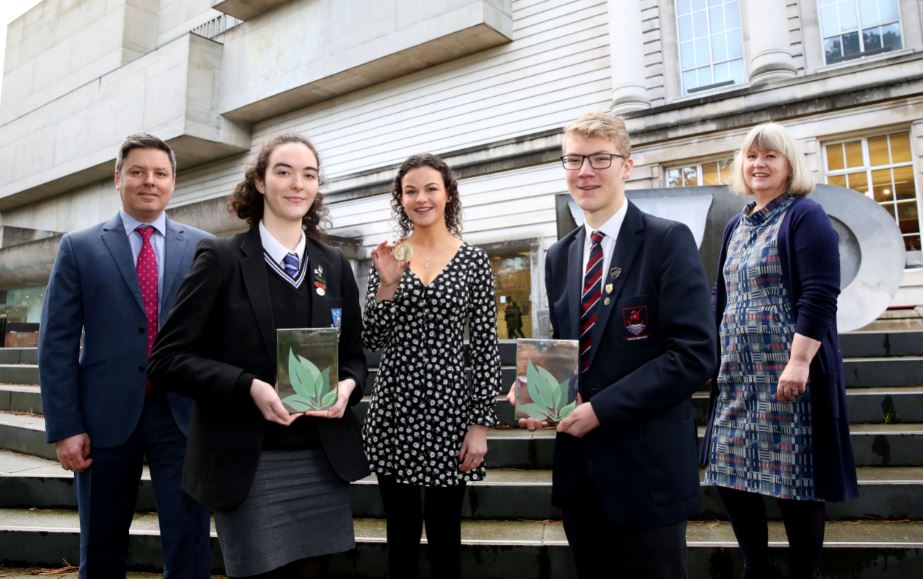 January 10, 2020
Hans Sloane & Sloane McClay Award nominations reach all time high
Craigavon, N.I., 10 Jan 2020 – Nine top Northern Ireland science students, and their schools, have been recognized for their outstanding excellence through the Hans Sloane Medal and the Sloane McClay Awards.
The Hans Sloane Memorial Fund Trust, in partnership with National Museums NI, was established in 1960 to commemorate the life and work of the celebrated Killyleagh physician, scientist and collector. In 2017, and in collaboration with Almac Group, the Hans Sloane Trustees launched the Sloane McClay award in memory of Sir Allen McClay, the late Founder and Chairman of global contract pharmaceutical development and manufacturing organization, the Almac Group.
The Hans Sloane Medal is awarded to the top student obtaining the highest combined marks in 'A' level biology, chemistry and physics. To augment the Hans Sloane Medal, the Sloane McClay (Triple) Award is presented to the top student obtaining the highest combined marks in GCSE biology, chemistry, physics and maths. This was enhanced in September 2019 with the addition of a new Sloane McClay (Double) Award offered to students studying double award science and maths.
In September, school principals from across the province were invited to nominate their top performing 'A' level and GCSE science & maths students. This year saw a record number of nominations with 142 individuals put forward for consideration for all three awards.
Winning students, and their families, attended a prestigious awards ceremony in the Ulster Museum on Thursday 9th January 2020, to recognize their individual achievements. Professor Tom Moody, VP Technology Development and Commercialization, Almac Group, delivered an engaging lecture entitled "Science of our DNA" before presenting the individual and school awards.
The winner of the 2019 Hans Sloane Medal, certificate and check for £500 was Claire Whiteside. Her former school, Strathearn, Belfast, also received a Hans Sloane Medal and framed certificate as recognition for excellence in teaching. Claire is now studying Medicine at Queen's University, Belfast.
Second place certificate and a check for £300 was presented to Aoibheann Quail from St. Louis Grammar School, Kilkeel. Sarah O'Callaghan from Thornhill College, Derry received a certificate and £150 check for third place.
The Sloane McClay (Triple) award first prize went to Francesca Wilson from Our Lady & St. Patrick's College, Knock while the newly introduced Sloane McClay (Double) top award was presented to Larne Grammar School's Isaac Holst. Francesca and Isaac received the Sloane McClay trophy, certificate and check for £250 each while their respective schools received a replica trophy and framed certificates to celebrate their teaching excellence.
Katie House from Foyle College (Triple Award Science and Maths) and Conor Gallagher (Double Award Science and Maths) at St. Columb's College received 2nd prize for their outstanding achievements at GCSE level. They were presented with a check for £150 and a certificate.
Third prize for the Triple award was presented to James Craig from Ballymena Academy and the accompanying Double award went to Seadhna Campbell from St. Patrick's Academy, Dungannon. Each received a £50 check and a certificate.
All winning students also have the opportunity to carry out structured, informative and valuable work experience at Almac's facilities in Northern Ireland offering them a chance to see first-hand what it is like to work in a leading global pharmaceutical contract manufacturing and development organization.
Tom commented: "As a business employing over 5,600 individuals globally, our ongoing success depends on the talent and skills of our most important asset, our people, it is therefore crucial that we continue to invest in the next generation. Almac is strongly committed to recognizing and rewarding achievements in STEM and our ongoing partnership with the Hans Sloane Trust is the perfect platform which enables us to do just that. I would like to congratulate all of today's worthy recipients of the Hans Sloane medals and the Sloane McClay awards and wish them every success for their future."
Dr Sally Montgomery, Chairman Hans Sloane Memorial Fund, commented: 'The achievements of this year's nominations have been exceptional and is testament to the teachers' and students' ability and hard work. We would like to extend our congratulations to all the students nominated this year. The partnership with Almac and the National Museums ensures that we continue to highlight the importance of STEM to the wonderful achievements of these students.'
To find out more about the Hans Sloane and Sloane McClay awards, visit almacgroup.com/sloanemcclay.
ENDS
About Sir Hans Sloane
The Hans Sloane (Memorial Fund) Trust, in partnership with National Museums NI, was established in 1960 to commemorate the life and work of the notable Killyleagh surgeon and collector, Sir Hans Sloane (1660–1753). Sloane promoted inoculation against smallpox, the use of quinine (a treatment for malaria) and the health-giving properties of drinking chocolate mixed with milk. Sloane's collection became the foundation of the British Museum.
About Almac Group
A unique culture delivering exceptional solutions
The Almac Group is an established contract development and manufacturing organization providing an extensive range of integrated services across the drug development lifecycle to the pharmaceutical and biotech sectors globally. Its innovative services range from R&D, biomarker discovery development and commercialization, API manufacture, formulation development, clinical trial supply, IRT (IVRS/IWRS) through to commercial-scale manufacture.
The international company is a privately owned organization which has grown organically over the past five decades now employing over 5,600 highly skilled personnel across 18 facilities including Europe, the US and Asia.
To keep up to date with latest news, follow Almac Group on Twitter and LinkedIn or visit almacgroup.com
Back to news