Almac's Higher Level Apprentices shortlisted for WorldSkills UK National Competition
July 20, 2022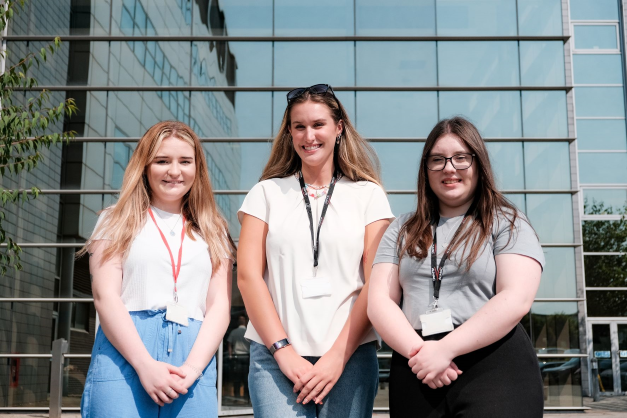 Three of Almac's Chemical Sciences Higher Level Apprentices (HLAs) have been named as finalists in this year's World Skills UK national competition.
Abbi Magill and Anastasiya Kovtun from our Sciences' business unit and Wiktoria Kurkowska who works within Pharma Services are currently completing their HLA program through Almac's partnership with Southern Regional College which provides a range of apprenticeship programs for students interested in a career at Almac.
They are among 500 finalists who will be competing for gold, silver and bronze at the competitions taking place across the UK in November – those who are successful will then have the opportunity to represent the UK at the "Skills Olympics" in France in 2024.
World Skills UK is an independent charity which partners with employers, education and government and is a member of the global body, WorldSkills, created to support young people via competitions-based training, assessment and benchmarking.
Tanya Graham, Sciences' Head of Analytical Services, said: "Congratulations Abbi, Wiktoria and Anastasiya on getting this far in the WorldSkills UK development program. We are really proud of your achievement and wish you all the best at the upcoming finals."
"Almac's apprenticeship programs enable students to develop the technical knowledge and skills they need to support projects at different stages in drug development. The support and mentorship we offer our apprentices, as well as the opportunity to take part in competitions like WorldSkills, really helps our apprentices develop valuable interpersonal skills and grow in confidence in their respective roles.
"Our partnership with Southern Regional College has created 52 apprenticeship jobs, over three quarters of whom are still working with us and we are exploring additional opportunities with the aim of training over 100 apprentices by 2025."
ENDS
About Almac Group
The Almac Group is an established contract development and manufacturing organization providing an extensive range of integrated services across the drug development lifecycle to the pharmaceutical and biotech sectors globally. Its innovative services range from R&D, biomarker discovery development and commercialization, API manufacture, analytical services, formulation development, clinical trial supply, IRT (IVRS/IWRS) through to commercial-scale manufacture.
The international company is a privately owned organization which has grown organically over the past five decades now employing over 6,500 highly skilled personnel across 18 facilities including Europe, the USA and Asia.
The figures quoted in this announcement relate to the financial period 1 October 2020 to 30 September 2021. Employee numbers recorded in the results relates to the average figures during that financial year.
To keep up to date with latest news, follow us on Twitter and LinkedIn or visit almacgroup.com.
Back to news