Almac Group's Comprehensive STEM Program Wins "Innovation in Sponsorship" Award
December 6, 2019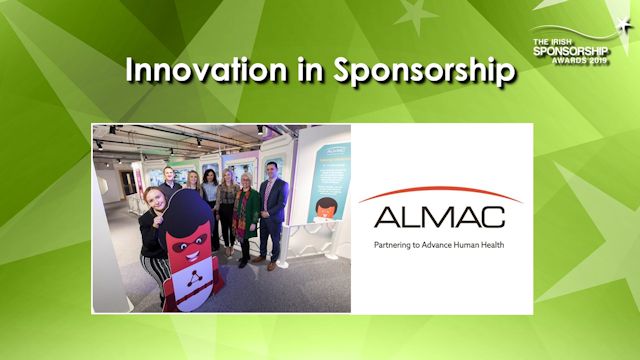 Craigavon, N.I., 6 December 2019 –Almac Group, a global contract development and manufacturing organization, is delighted to announce it has won the "Innovation in Sponsorship" award during this year's Irish Sponsorship Awards ceremony in Dublin.
This award, given annually, recognizes "a distinct new method or unique approach to a sponsorship activation, partnership or initiative". Almac Group was awarded this honor for the organization's unique and innovative £1 million sponsorship agreement with W5, the interactive discovery center in Belfast. The partnership, a first of its kind in Ireland, has resulted in a comprehensive STEM learning program based at W5 that aims to improve access to STEM education and promote exciting career possibilities available through pursuing STEM subjects.
As a business employing over 5,600 individuals globally, Almac's success depends on the talent and skills of its most important asset— its people. Understanding that it is therefore critical to engage as many pupils as possible to cultivate future talent, a partnership with W5 was launched in 2018 to showcase the organization and greatly expand access to STEM programming to students, teachers and parents throughout Ireland.
From its onset, this included the construction of an interactive, bespoke physical exhibition for W5's, 'Med-Lab," which utilizes 3D technology to transport visitors into Almac's laboratories and production environments. Through immersion into Almac's business, visitors learn about the different stages in the medicine-making process that the organization supports globally.
To further the impact of its exhibit, Almac's sponsorship also included the launch of a STEM Pathway® Program at W5. The program, which began in October 2019, includes a series of unique, exciting and interactive workshops at W5 for post-primary schools. These events, tailored for each of the Key Stages from Year 8-14, provide students and teachers with the opportunity to speak with Almac staff, participate in practical demonstrations and get involved in hands-on activities.
Commenting, Kevin Reid, VP Global Marketing Almac Group said, "Through our unique sponsorship agreement with W5, Almac's capability to fulfilL its mission to reach, educate and engage pupils, parents and teachers from all over Ireland is greatly enhanced. Through sponsorship of Med-Lab and creation of a bespoke exhibit and associated education program, Almac has built a distinctly hands-on, exciting method for pupils to learn about their health and pharmaceutical development, as well as a sneak peek into the operations occurring right at the heart of Almac, one of Northern Ireland's largest employers."
Since launching in 2012, the Irish Sponsorship awards have recognized industry leaders who leverage the sponsorship medium as a key strategic marketing channel through which to deliver business and organizational success. The winners were revealed at a Gala Awards dinner on 5 December at Croke Park, Dublin where Dr Frances Weldon, Almac Group's STEM Outreach Manager received the award.
About Almac Group
'Partnering to Advance Human Health'
The Almac Group is an established contract development and manufacturing organization providing an extensive range of integrated services across the drug development lifecycle to the pharmaceutical and biotech sectors globally.
Its innovative services range from R&D, biomarker discovery development and commercialization, API manufacture, formulation development, clinical trial supply, IRT (IVRS/IWRS) through to commercial-scale manufacture.
The international company is a privately owned organization which has grown organically over the past five decades now employing over 5,600 highly skilled personnel across 18 facilities including Europe, the US and Asia. Click here to view our facilities.
The company has a global reputation for excellence built over 50 years of client service, delivering expertise right across the drug development lifecycle and offering a tailored solution to each of our clients.
To keep up to date with latest news, follow Almac Group on Twitter and LinkedIn or visit almacgroup.com
Back to news