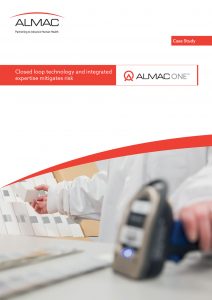 Case study: Closed loop technology and integrated expertise mitigates risk
IRT, ERP, forecasting and temperature management systems have the potential to transform clinical trials and their supply chains for the better. Yet, when multiple applications exist in silos, and are operated by multiple vendors, this potential can be lost, and the integrity of the data passing between the systems compromised. This in turn can lead to risk – to quality and compliance, to cost, and ultimately to patients.
Download our case study to discover how Almac's One Unified Clinical Trial Supply Solution helped one pharmaceutical company operating a global phase III study remove a significant and costly risk from start-up to completion of their study while maintaining data integrity.
Submit the form on this page to access the Case Study or if you have a specific query regarding Almac ONE™, you can contact us directly.