Almac McKervey Award Presented for Excellence in Chemistry
September 29, 2020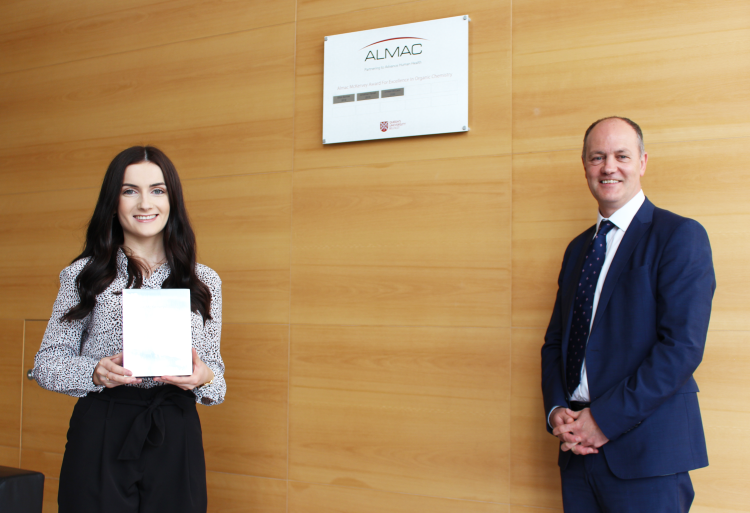 Craigavon, N.I.,  29 Sep 2020 – Almac Group, the global contract pharmaceutical development and manufacturing organisation, has today announced this year's recipient of the 'Almac McKervey Award for Excellence in Organic Chemistry'.
The award, established in 2018 as a commemoration to the life and work of one of Ireland's most distinguished scientists, Professor Tony McKervey, who passed away in June 2017, was made to Queen's University Belfast MChem in Medicinal Chemistry student, Sinead McCann.
Dr Stephen Barr, Managing Director and President, Almac Sciences, announced the winner at the Queen's School of Chemistry and Chemical Engineering virtual Graduation awards ceremony on 22nd July. In his video address, Dr Barr made reference to the truly monumental period where, due to the pandemic, the profile given to science and scientists has never been higher, offering the Graduates of 2020 the opportunity and potential to make a real difference in the world by combining their skills, knowledge and talent with others to support global health, socio-economic and environmental challenges.
Sinead, who is from Magherafelt, also received a £1,500 bursary towards her tuition fees and a 12-month placement with Almac to gain practical industry experience and mentorship in process development chemistry.
Dr Stephen Barr said: "I am pleased to present this year's Almac McKervey Award to Sinead in memory of our esteemed colleague and friend Tony whose commendable leadership and kind manner inspired many of us during his long service with Almac. Sinead has demonstrated exemplary performance throughout her degree to date and I hope, that in receiving this recognition today, she will progress to a long and rewarding career in chemistry. Many congratulations."
Upon receiving the award, Sinead said: "I am delighted to have won this year's Almac McKervey award and am excited to carry out my placement at Almac. The experience and insight I will be exposed to will certainly help me develop my wider chemistry understanding, introduce me to new techniques and help me develop my skills further."
Sinead's name was added to the perpetual commemorative wall plaque at the David Keir building at Queen's- a replica of which is displayed at Almac's global headquarter facility in Craigavon.
Born in Ederney, Co Fermanagh in 1938, Tony earned a degree in Chemistry from Queen's in 1961. A former Professor of Organic Chemistry at both University College Cork and Queen's University Belfast, Tony founded Almac's Sciences Business Unit in 1992 and continued to support Almac as a member of the Sciences' senior management team until his death at the age of 78.
Professor McKervey was an esteemed academic and an industry expert, having received the ASTRA Award of the Royal Dublin Society in 1986 and the Boyle-Higgins Gold Medal of the Institute of Chemistry of Ireland in 1993. He also authored over 270 published research papers in world-renowned journals.
The Almac McKervey Award, which is open to students studying Chemistry or Medicinal Chemistry at the School of Chemistry and Chemical Engineering, Queen's, is presented each year to the top applicant, selected on both their academic achievement and performance at an interview with Almac's chemistry experts.
#END#
Notes to Editor
About Almac Group
'Partnering to Advance Human Health'
The Almac Group is an established contract development and manufacturing organisation that provides an extensive range of integrated services to the pharmaceutical and biotech sectors globally. The services range from R&D, biomarker discovery development and commercialisation, API manufacture, analytical services, formulation development, clinical trial supply, IRT (IVRS/IWRS) through to commercial-scale manufacture.
The international company is a privately owned organisation that has grown organically over the past five decades now employing over 5,600 highly skilled personnel across 18 facilities including Europe, the US and Asia.
To keep up to date with our latest news, follow us on Twitter and LinkedIn or visit almacgroup.com.
Back to news