Almac selected as finalist for KTP "Best of the Best" awards
September 1, 2023
The only Northern Irish company to reach the finalist category of awards to celebrate the most positive impacts of Knowledge Transfer Partnerships
Almac Sciences, a member of the Almac Group, has been shortlisted as a finalist in the Technical Excellence category at this year's national Knowledge Transfer Partnership (KTP) Awards by Innovate UK.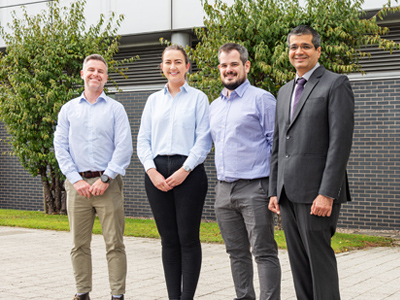 The award nomination was based on the successful completion of a three-year research project in collaboration with Queen's University Belfast (QUB) and is the only Northern Irish submission to be shortlisted.
The project involved the development of highly innovative continuous flow processes with a key focus on high pressure hydrogenations to access critical raw materials for the chemical industry. This project was recently awarded the highest grade of "outstanding" by the grading panel after successfully meeting all the KTP's objectives and is only one of three finalists in this prestigious category.
The Innovate UK-funded KTP aimed to embed flow technologies to ensure long term security of supply for critical raw materials through development of a continuous flow technology. Continuous flow chemical manufacture is impacting the drive to strengthen supply chain resilience, contribute to Net Zero Impact and support continued growth of the chemical manufacturing sector here in the UK.
Gary Morrison, former KTP associate is now a Chemist in the Custom and Flow team at Almac commented: "It is an honour to be shortlisted as a finalist in the Technical Excellence category at this year's national KTP awards by Innovate UK. Contributing to the evolution of flow chemistry expertise at Almac throughout the 3-year project has been hugely beneficial and I am delighted that we have been recognised. I would also like to thank my academic and industrial mentors Dr. Haresh Manyar and Dr Megan Smyth for their expertise and advice."
Dr. Scott Wharry, Custom and Flow Chemistry Manager, Almac Sciences added: "We once again offer our congratulations to the whole team on this recognition. The KTP project has been a huge success which has embedded new technology, capacity and knowledge into Almac. As an organisation we understand the criticality of creating academic partnerships via programs such as KTP to help drive innovation whilst developing the necessary skills to secure a pipeline of talent within the pharmaceutical industry."
The KTP awards ceremony will be held on Wednesday 18th October in Cardiff.
Back to news