Galen, an Almac Company, announces Completion of Multi-Million Pound POA Pharma Acquisition
January 8, 2020
Move adds substantial new therapeutic areas and territories to Galen's reach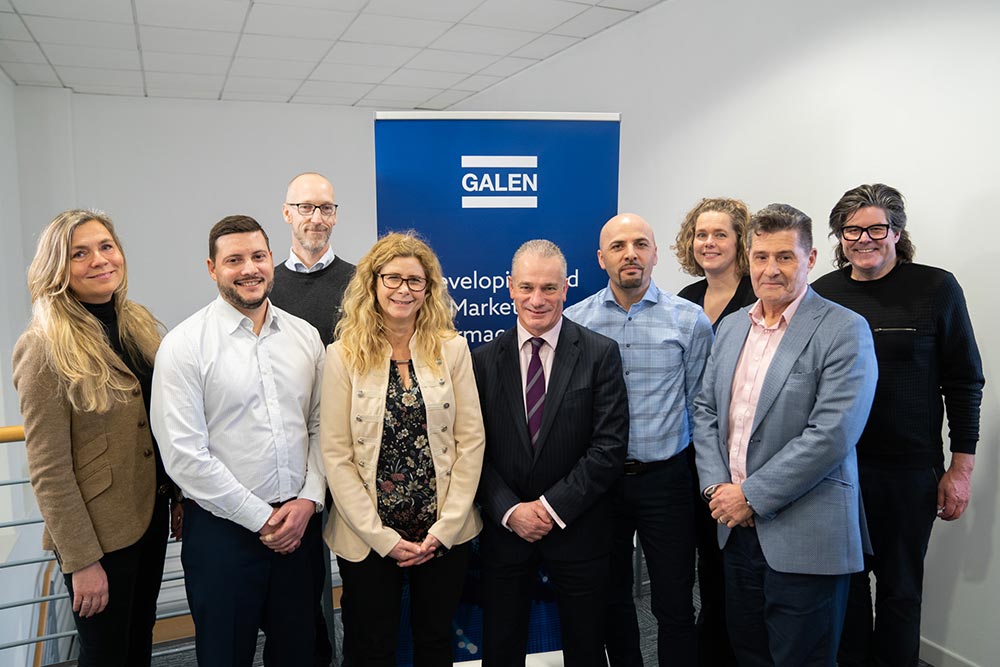 Craigavon, N.I., 8 Jan 2020 – Galen, the privately owned global pharmaceutical sales and marketing company, today announced the completion of a multi-million pound acquisition and takeover of boutique healthcare company, POA Pharma. The move enables Galen to significantly expand its global reach and product portfolio in exciting new therapy areas, such as rare metabolic disease.
Headquartered in Sweden, with additional facilities located across the Nordic region and North America, POA Pharma currently represents 16 producers from 10 countries and retains a strong portfolio of products and an extensive network worldwide. Galen first signed a distribution agreement with POA Pharma in April 2016, allowing the company to market and sell POA Pharma's metabolic product portfolio in the UK and Ireland. The acquisition is an extremely significant new phase of Galen's growth, as it extends its global footprint into the Nordic territory and Northern Europe.
As part of the takeover, Simon Lawrence, who has held various senior management positions with Galen over 33 years, has been appointed Commercial Director – Nordics and will be based at the POA facility in Copenhagen. He will oversee operations in the region and grow the team to reflect demand in line with the global Galen strategy.
Simon Lawrence commented: "Galen's long-heritage and expertise in delivering valued medicines to the people that need them most, coupled with POA Pharma's important portfolio, means we now have the opportunity to improve the lives of more people affected by a variety of diseases on a truly global scale. Particularly for the underserved, rare, phenylketonuria (PKU) population, who have limited treatment options available to them, today's completion is a welcome step towards better access to life-saving nutritional therapies across Galen's extensive distribution network and beyond."
Dr Dennise Broderick, President & Managing Director Galen added: "This acquisition is highly complementary to our established business and marks a key milestone in our strategic global growth plans. The founders of POA have created a highly successful business and we look forward to incorporating and growing the reputable company further as part of the Galen organisation. This acquisition will enable Galen to offer a wider range of products to our customers, healthcare professionals and patients around the world."
Notes to editors
About POA
POA Pharma is a market oriented Boutique Healthcare Company present in 9 competence areas with offices in Denmark, Finland, Norway, Sweden and US. The home market is the Nordic countries were POA represents 16 pharmaceutical producers from 10 countries. Our export is based on POA proprietary products, classified as food for specific medical purposes, products that are sold in more than 40 countries.  www.poapharma.com
About Galen
Established in 1968, Galen is a privately owned pharmaceutical sales and marketing company, headquartered in Craigavon (Northern Ireland), with products in therapy areas including gastroenterology, urology, female health, pain management and mental health.
As a subsidiary of Galen Limited, Galen US also has a growing presence in select conditions requiring topical anaesthesia and Central Nervous System disorders. The company plans to continue expanding its portfolio with selected specialty products on an international basis. By combining innovation in product development with competitive pricing, Galen aims to work in partnership with healthcare professionals and patients to create real, long-term value. Visit: www.galen-pharma.com
About Almac Group
Galen is a member of the Almac Group. The Almac Group is an established contract development and manufacturing organisation providing an extensive range of integrated services across, and beyond, the drug development lifecycle to the pharmaceutical and biotech sectors globally.
Almac's innovative services range from R&D, biomarker discovery development and commercialisation, API manufacture, formulation development, clinical trial supply, IRT (IVRS/IWRS) through to commercial-scale manufacture, product development and marketing.
The international company is a privately owned organisation that has grown organically over the past five decades and now employs over 5,600 highly skilled personnel across 18 facilities including Europe, the US and Asia.
Almac has a global reputation for excellence built over 50 years of client service, delivering expertise right across the drug development lifecycle and offering a tailored solution to each of our clients.
For further information please visit almacgroup.com.
Back to news