Almac Group Participates in National Take Our Daughters and Sons to Work Day
May 4, 2018
Souderton, U.S., May 4, 2018– Almac Group, the global contract pharmaceutical development and manufacturing organization with North American headquarters in Souderton, PA, participated in the nationally organized Take Our Daughters and Sons to Work Day, coordinating a full event schedule for over one-hundred and fifty children of Almac employees.
Organized into groups according to age, the projects covered the company's unique service areas, including science demonstrations, clinical packaging relays, tours of supply chain warehouses, and individualized career development. Participants at Almac's Durham, North Carolina facility had the opportunity to dissect a strawberry's DNA, guided by diagnostic subject-matter-experts. Each group also contributed to organizing care packages to help our military heroes, aiding the Military Working Dog Team Support Association.
Helene Matthews, US Training Director, commented: "Almac enjoyed hosting this event for our employees' families, as it fosters a shared educational experience and further provides participants with insights to an exciting and continually evolving industry. We thank everyone for their contributions and helping to make this year's 'Agents of Positive Change' theme a success."
A national movement led by the Take Our Daughters And Sons To Work Foundation, this year's event focused on creating a transparent and equitable experience to showcase opportunities that girls and boys can use in their continued career exploration and build upon with future educational achievement.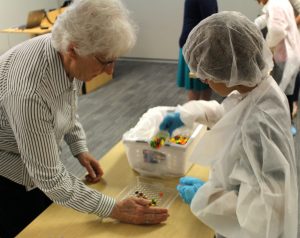 Arden Pengelly, Parent and HSE Supervisor, commented: "STEM education is important to my children's future. I'm proud to work for a company like Almac who chooses to invest resources and places considerable value on events like these. Many companies try to live up to their core values; Almac is a company that always does."
To learn more about Almac's dedication to its employees and corporate social responsibility efforts, please visit: https://www.almacgroup.com or e-mail [email protected].
###
About Almac Group
'Partnering to Advance Human Health'
The Almac Group is an established contract development and manufacturing organisation that provides an extensive range of integrated services to the pharmaceutical and biotech sectors globally. The services range from R&D, biomarker discovery development and commercialisation, API manufacture, formulation development, clinical trial supply, IXRS® technology (IVRS/IWRS) through to commercial-scale manufacture.
The international company is a privately owned organisation that has organically grown over almost 50 years and now employs close to 5600 highly skilled personnel. Almac is headquartered in Craigavon, Northern Ireland with operations in the UK, Ireland, across the US (Pennsylvania, North Carolina and California) and in Asia (Singapore and Tokyo).
Back to news