Almac Group Receives Recognition at The Irish Laboratory Awards with Laboratory Supplier of the Year Award
April 20, 2018
Craigavon, N.I., 20 April 2018 – Almac Group, the global contract development and manufacturing organisation is delighted to announce it has won the Laboratory Supplier of the Year Award during this year's Irish Laboratory Awards, presented by Business River. This award recognises BioClin Research Laboratories', a Member of the Almac Group, commitment to delivering the highest quality analytical services to its customers and clients.
The Irish Laboratory Awards spotlight excellence and achievement in the laboratory environment, covering management, innovation, collaboration, personnel development and laboratory equipment supply. The winners were revealed at a ceremony on 19th April at Ballsbridge Hotel in Dublin. An independent panel of recognised and expert judges, representing Ireland's scientific sector, determined the 2018 winners.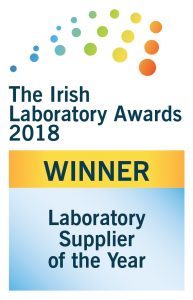 Judges awarded this based on the excellence demonstrated as a service provider, delivering "best in class" solutions to the pharmaceutical industry. Five additional companies were finalists for each category, as part of over a hundred nominees competing for twenty-two individual category awards.
Stephen Barr, President & Managing Director, Almac Sciences, commented: "I'm proud of our employees who work daily to provide unparalleled service to our customers and clients throughout the world. This award serves to highlight our team's dedication and commitment to quality, and also showcases our diverse ability to deliver pharmaceutical, bio science and laboratory supplier services to the industry."
Launched in 2013, The Irish Laboratory Awards has established itself as the premier event in Ireland for benchmarking those that demonstrate excellence, best practice and innovation in Ireland's laboratories. These awards are an opportunity to showcase a company's extensive knowledge, enthusiasm and expertise in the industry.
###
About Almac Group
'Partnering to Advance Human Health'
The Almac Group is an established contract development and manufacturing organisation that provides an extensive range of integrated services to the pharmaceutical and biotech sectors globally. The services range from R&D, biomarker discovery development and commercialisation, API manufacture, formulation development, clinical trial supply, IXRS® technology (IVRS/IWRS) through to commercial-scale manufacture.
The international company is a privately owned organisation that has organically grown almost 50 years and now employs close to 5600 highly skilled personnel. Almac is headquartered in Craigavon, Northern Ireland with operations in the UK, Ireland, across the US (Pennsylvania, North Carolina and California) and in Asia (Singapore and Tokyo).
Back to news