Almac Discovery nominates a first candidate molecule from its Protein Drug Conjugate (PDC) Platform to progress into pre-clinical development
June 1, 2022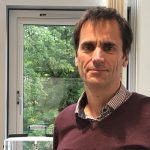 Almac Discovery, a research driven drug discovery company and member of the Almac Group, today announces the nomination of a new pre-clinical candidate molecule (ADP-c389), a novel Protein Drug Conjugate (PDC) targeting the tumour-associated antigen ROR1, for the treatment of refractory solid and haematological cancers. This follows an extensive profiling exercise in which ADP-c389 has demonstrated an excellent preclinical efficacy profile in a range of models, a large therapeutic index and robust preclinical development potential.
This nomination represents the first candidate molecule to be generated using Almac Discovery's novel PDC platform. The platform combines the use of single chain antigen binding domains with Almac's proprietary linker:payload and conjugation technologies to produce first and best in class compounds that target unmet needs in oncology.
ROR1 is a novel tumour-associated antigen and was selected as the first target for the platform due to its selective expression pattern on different tumour types including triple-negative breast cancer, lung cancer, ovarian and colorectal cancer, and its functional role in tumorigenesis, disease progression and drug resistance. With ADP-c389 in hand, the Almac Discovery team are now also exploring additional clinical applications for the molecule in areas of high unmet need.
Dr Graham Cotton, Head of Protein Therapeutics at Almac Discovery, said: "The nomination of this candidate drug represents a significant value inflection point in in the development of our PDC platform and an important step forward in our search for new treatments for solid tumours. This particular molecule has arisen from our strategic collaboration with Elasmogen Ltd, (Aberdeen UK), with whom we have worked to identify a selective, high affinity single domain binding molecule derived from their shark Variable New Antigen Receptor (VNAR) platform. With this, and other differentiating features included in the design of this compound, we are confident that ADP-c389 has the potential to progress to a Best-in-Class drug against this clinically relevant target."
Dr Alan Lamont, VP Business Development and Licensing added: "We are now seeking to identify a partner to facilitate clinical development of this asset and take this molecule through the next stages of development."
ENDS
For more information, please visit almacgroup.com
Media contact: [email protected]
About Almac Discovery
Almac Discovery is a research driven biotech company dedicated to the discovery and development of First in Class therapeutics across a range of therapeutic areas including neuroscience, muscle-wasting, oncology and inflammation. Almac Discovery focuses on the discovery to preclinical stage, seeking to licence programmes with a pharmaceutical partner for further development.
About Almac Discovery's novel Protein Drug Conjugate (PDC) platform
Almac Discovery has developed an oncology protein therapeutics platform, which includes components aimed at producing novel protein drug conjugates with differentiating features compared to standard ADC technology. First, through the use of small single chain antigen recognition domains rather than full size antibody molecules, we are looking to better access novel epitopes in occluded protein complexes within physiological tumour microenvironments and, in addition benefiting from their small size, intended to promote better tumour penetration. Second, we have developed a proprietary linker:payload technology which incorporates both cleavable and non-cleavable versions of both established and novel toxic payloads that maximally promote bystander cell killing and induction of immunogenic cell death within tumours. Finally, the platform utilises established, clinically compatible conjugation chemistry technology with the objectives to both reduce scalability risk and support consistent manufacture of DAR2 and DAR4 species. Together, these components allow Almac Discovery to rapidly produce and test panels of novel PDC compounds against tumour associated antigens of interest with the ultimate goal to deliver the next generation of protein drug conjugates for the treatment of solid tumour indications with high unmet need.
About Elasmogen Ltd
Elasmogen is a therapeutic biologics company delivering VNAR based drug candidates known as soloMERs primarily in the fields of oncology and autoimmune inflammatory diseases. The company's proprietary technology is protected by a robust and layered IP portfolio covering the generation, humanization, half-life extension, products and product formats.
About Elasmogen's VNAR Platform Elasmogen has developed differentiated therapeutic biologics platforms based on VNARs. The unique topology of these protein molecules enables targeting of epitopes distinct from those of competing mAbs, VHHs and other single chain binding domains. Programs against different target classes, including but not limited to ROR1, TNF and SARSCov-2, have succeeded in delivering novel epitope targeting therapeutics. In addition, their small size (~11 kDa) and simple architecture facilitates the design and delivery of drug candidates capable of greater tumour penetration and binding more than one disease target or more than one paratope on a single target. Fast and flexible re-formatting brings another layer of differentiation to our platform enabling drug candidates to be tailored for targeting, PK and route of administration. The success of the ADP-c389 candidate nomination clearly demonstrates the power of Elasmogen's platforms to deliver novel therapeutic binding domains.
Back to news